In the 2019 edition of Asialaw Profiles, Kim & Chang was once again the only Korean law firm to receive "Outstanding," the highest possible ranking, in all 24 practice areas and industry sectors. Honored with the top ranking category in every practice area and industry sector, including the newly added sectors, we have established ourselves as the only Korean law firm that possesses exceptional capabilities across a wide range of practice areas and industries.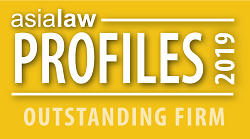 The following is a list of our recognitions in the Asialaw Profiles 2019:
Firm Rankings ("Outstanding" in all 24 categories)
Practice Areas
Industry Sectors
Aviation and Shipping

Banking and Financial Services*

Consumer Goods and Services*

Energy

Industrials and Manufacturing*

Infrastructure

Insurance

Media and Entertainment*

Pharmaceuticals and Life Sciences*

Real Estate

Technology and Telecommunications
(*newly added industry sectors)
About Asialaw Profiles: Asialaw Profiles is an annually published legal directory by Asialaw, a legal media associated with Euromoney, covering law firms in 25 jurisdictions across the Asia-Pacific region. Asialaw draws from law firm submissions, interviews, and surveys of legal practitioners and clients, as well as from its independent research to rank law firms in one of the following four categories: "Outstanding," "Highly recommended," "Recommended," and "Notable." Korean law firms were researched on 13 practice areas and 11 industry sectors.